Winemaker Dinner Pass
Event Ticket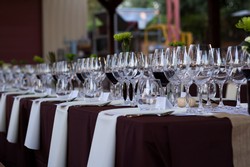 LA CENA 4|14
BORJÓN HARVEST DINNER 10|13
Both La Cena and the Borjón Harvest Dinner sold out and many of our members asked us for a way to help them save a seat for this year's round of dinners. The Wine Maker Dinner Pass will include two tickets to each Wine Maker Dinner, La Cena and the Harvest Dinner. Both events feature a handcrafted meal from Nora & Ivan Borjón paired perfectly with our selected wines.
The evenings will be spent with proprietor, Isy Borjón, and winemaker, Joe Shebl. The dynamic duo are experts when it comes to our wines, the Shenandoah Valley Appalachian and having a good time. We throroughly enjoyed hosting all who attended last year and cannot wait for another chance to fill your glass and mingle, get your Wine Maker Dinner pass today!
Only 15 Passes Available!